Bamboo Airways to launch IPO next year
2019-10-21 10:35:16 Release
Bamboo Airways to launch IPO next year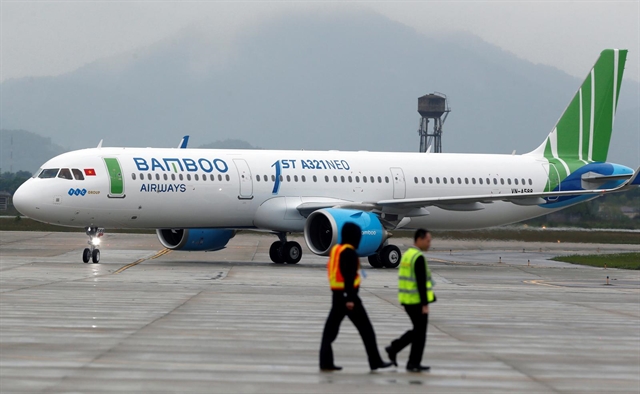 A Bamboo Airways plane. The company expects to collect $100 million from its initial public offering (IPO), raising its total charter capital to nearly VNĐ4 trillion. — Photo flc.vn
New budget carrier Bamboo Airways plans to list 400 million shares on the Hồ Chí Minh City Stock Exchange or Hà Nội Stock Exchange in January 2020 at the earliest.
The starting price would range from VNĐ50,000–VNĐ60,000 (US$2.59), said Deputy General Director Nguyễn Khắc Hải.
The carrier's chairman Trịnh Văn Quyết told Bloomberg that Bamboo Airways expected to collect $100 million from the initial public offering (IPO), raising its total charter capital to nearly VNĐ4 trillion.
The airline will take the delivery of an additional five aircraft this year to expand its fleet to 25, and has plans to increase that to 30 next year.
Quyết said Bamboo Airways had set a goal of becoming the first airline in Việt Nam to launch direct flights to the US by the late 2020.
The carrier now operates 26 domestic and international routes to Japan, the Republic of Korea (RoK) and China.
This year, it will continue expanding to 37–40 routes, including those to the RoK, Taiwan (China) and Southeast Asia. — VNS