Chi Lăng custard-apple promoted in Hà Nội
2019-08-17 12:16:01 Release
Chi Lăng custard-apple promoted in Hà Nội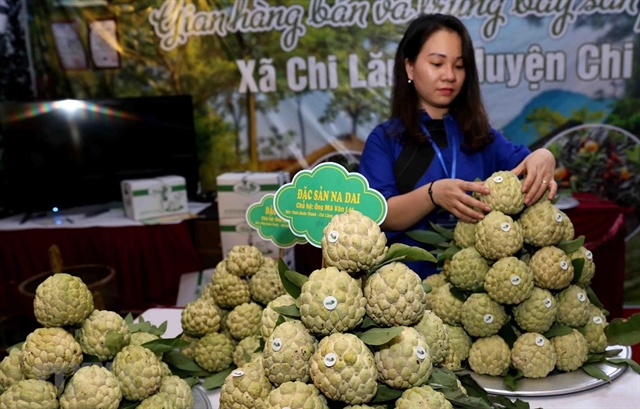 Chi Lăng custard-apple is a special fruit in the northern province of Lạng Sơn. It is being on display at the Trade Promotion Centre of Agriculture in Hà Nội's Cầu Giấy District. —VNA/VNS Photo Vũ Sinh
The 2019 week of Chi Lăng custard-apple and specialties in the northern province of Lạng Sơn was launched at the Trade Promotion Centre of Agriculture in Hà Nội's Cầu Giấy District on Friday.
Custard-apple is a valuable tree in the province, helping people in Chi Lang District earn billions of đồng every year. In 2011, the fruit was officially awarded the certificate of product registration, promoting domestic and foreign consumption.
Director of the Trade Promotion Centre of Agriculture Đào Văn Hồ said the promotion programme of Sơn La specialties was a bridge connecting Chi Lăng custard-apple to people of Hà Nội. This would help consumers identify the brand and distinguish Chi Lăng custard-apple from similar products on the market.
"This is also an opportunity for cooperatives and production facilities to promote products and access local markets, conduct direct transactions and contact with purchasing, wholesale and export enterprises," Hồ said.
"Lạng Sơn businesses expect to seek partners and sign contracts during this week," he added.
Deputy Chairman of Lạng Sơn Province Hồ Tiến Thiệu said many products of the province had been sold in supermarkets and major cities of Việt Nam. To achieve this result, local farmers have paid attention to the production chain including seedlings, production process, harvest and processing with the participation of co-operatives and businesses. "All have been implemented following standards."
"Việt Nam's agricultural products are mainly exported to China. However, there are still many types of fruits not yet in the list exported to China, such as Chi Lăng custard-apple," Thiệu said.
"Therefore, it will be difficult to consume the fruit," he added.
Thiệu said Lạng Sơn Province expected the ministries of Agriculture and Rural Development and Industry and Trade to speed up negotiations with authorised agencies of China to accept the Lạng Sơn specialties, creating favourable conditions for other agricultural products of Việt Nam such as custard-apple, durian and black agar to enter the Chinese market, contributing to raising the agricultural products' value and increasing farmers' income.
With the scale of 100 booths, the event has gathered many representatives of co-operatives and gardeners of Lạng Sơn Province.
There are also specialties from other provinces of Việt Nam, including Hưng Yên longan, Văn Yên cinnamon, Hải Hậu rice, Tân Cương tea, vegetable and fruits of Mộc Châu in the northern mountain province of Hòa Bình and Phú Quốc fish sauce. — VNS