Việt Nam prioritises renewable energy development
2019-03-13 11:07:55 Release
Việt Nam prioritises renewable energy development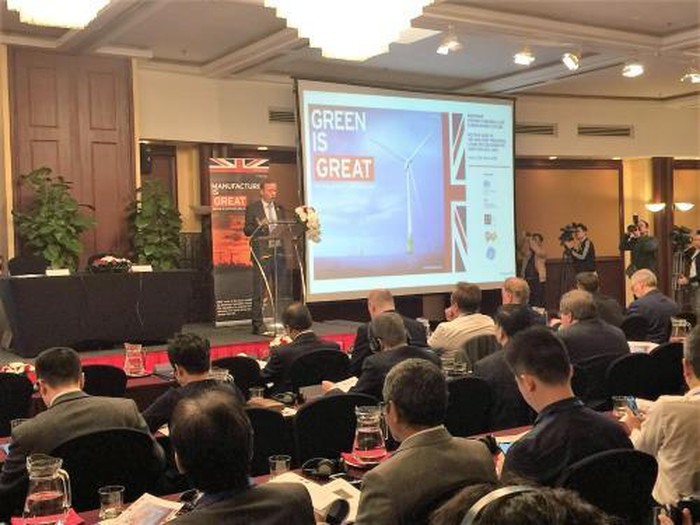 Gareth Ward, British Ambassador to Việt Nam, gives a speech at a conference on low carbon energy in Hà Nội on Tuesday. - VNA/VNS Photo Đức Dũng
The development of renewable energy to reduce the dependence on traditional sources of electricity in order to protect the environment and ensure sustainable development is a priority for Việt Nam.
Deputy Minister of Industry and Trade Cao Quốc Hưng made the statement at a conference on low carbon energy held on March 12.
Hưng said from now until 2030, Việt Nam's economy was forecast to grow at a high rate of between 6.5 and 7.5 per cent per year. Thus, ensuring energy supply for sustainable economic development must be a top priority.
According to the National Electricity Development Plan approved by the Government, the national power installation capacity would reach 130,000MW in 2030 compared to 47,000MW as currently.
It meant that about 83,000MW of new power would be needed by 2030, along with the building of the transmission and distribution infrastructure accordingly.
Studies on the potential of renewable energy showed that by 2030, the country would be able to develop about 8,000MW of small hydroelectricity; 20,000MW of wind power; 3,000MW of biomass power; and 35,000MW of solar power.
The renewable energy development strategy for the period 2015-30 approved by the Government in 2015 has set specific targets. Of that, the amount of power produced from renewable energy sources would increase from 58 billion kWh in 2015 to 101 billion kWh in 2020, 186 billion kWh in 2030 and 452 billion kWh in 2050.
In order to encourage the development of renewable energy, Hưng said the ministry has developed a series of mechanisms such as feed-in tariffs for solar power, wind power, and electricity produced from solid waste and biomass power.
In addition, the Government promulgated preferential policies for investors such as prioritising credit provision, corporate income tax exemption, land rent reduction and many other policies to attract investment in renewable energy development, he said.
By the end of last year, the country has put into operation 285 small hydropower plants with a total capacity of more than 3,320MW, eight wind power plants with a total capacity of 243MW, and ten biomass power plants with a total capacity of 212MW.
There are about 10,000MW of solar energy registered. Total capacity of renewable energy accounts for 2.1 per cent of the total system capacity.
Nguyễn Văn Vy, vice chairman of Việt Nam Energy Association said the rapid development of renewable energy sources has caused challenges for the country.
The investment costs remained high. Power grid infrastructure of some potential areas for renewable energy was not ready. Land use for renewable energy, especially solar power projects, required large areas.
Vy said a programme to solve these shortcomings was needed in the future.
Gareth Ward, British Ambassador to Việt Nam, said Việt Nam is emerging as an important energy producer in Southeast Asia. The Vietnamese Government has developed initiatives to boost renewable energy, especially solar and wind power.
The UK is among leading countries producing offshore wind power with a capacity of 7.6GW. It committed to supporting other countries to switch to a greener economy and reduce carbon energy, he said. — VNS